In a normal boudoir session, the interaction between photographer and subject is vital, but what happens in a couple photoshoot? What are the differences, from a photographer's perspective, that makes a couple photoshoot so different from a normal one? Have you ever captured great images in a couple photoshoot, or your magic tricks don't work when you have two people in front of your camera?
A couple photoshoot is quite different from a classical boudoir. It is not because you have two person in a frame, it is because of what you photograph. The key thing to understand while dealing with a couple photoshoot is that your role changes. You stop being a photo maker, and you become a photo taker. You stop being the reference point for your subject, and your role becomes much different. Do you want to know the few tricks that will make your next couple photoshoot winning?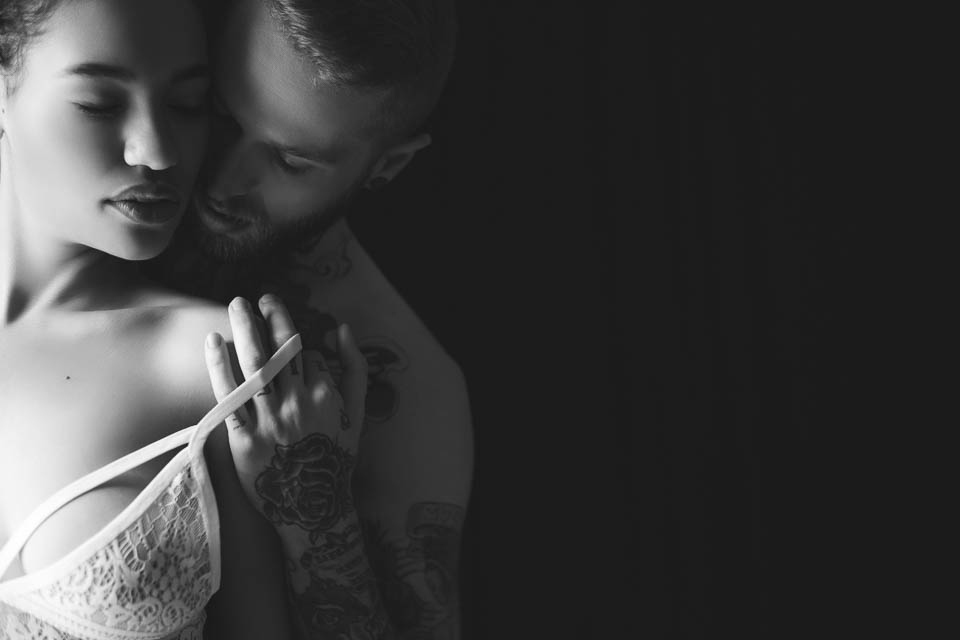 A couple photoshoot is about the chemistry
When we photograph a classical boudoir, it is the connection between us and our subject to drive the shoot. In a couple photoshoot, the role of the photographer changes. It becomes a more documentary role. You should stop directing your subjects as much as you normally do. Your direction should involve much more actions, not static poses. But what will count more, is going to be your ability to make your subjects comfortable. They have to be allowed to be themselves, in their intimacy, while in front of you and your camera.
In order to capture great photographs in a couple photoshoot, you need to blend in with the walls. Instead of directing with poses, you should direct the shoot by empowering the two persons in front of you to be themselves. It may seem very simple, but in reality you are asking two strangers to let you in their private moments. You are asking them to reproduce what they have done exclusively in their private, in front of you.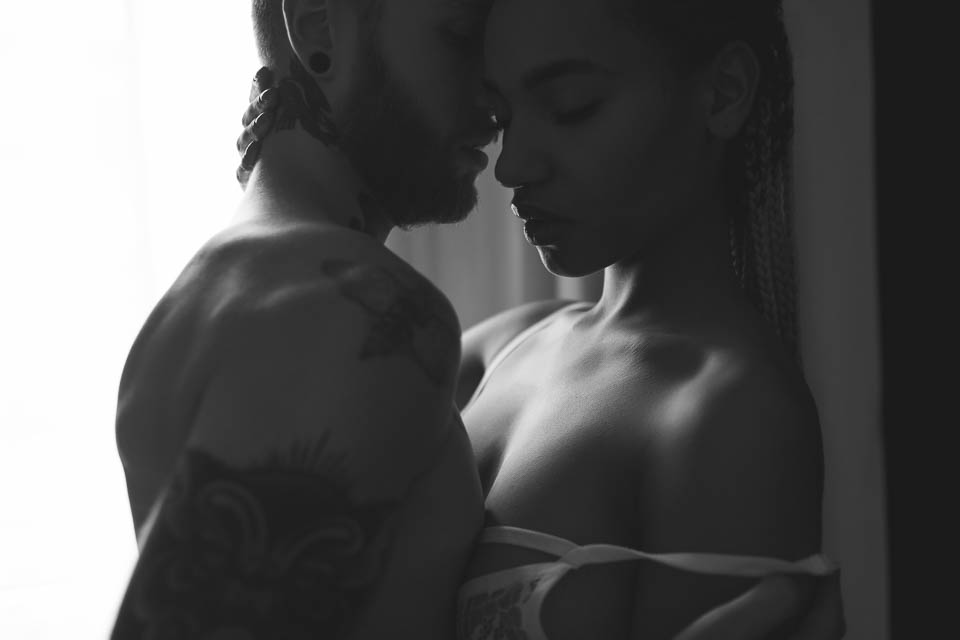 Poses don't work
For a couple photoshoot, you should stop focusing on how the body of one of your subjects is. The real magic to capture is in the moment between your subjects. A laughter, a kiss or something more; these are the things you should focus on . Stop thinking in terms of how the leg can look better, and start asking yourself how you can make them more comfortable.
You see, when you start posing head to toe, one person relaxes. You are sending the message that you are in the know, that you are managing the session professionally. Alas, if you try to apply the same in a couple photoshoot, you will get a lot of photo where your subjects look still (no pun intended). Instead of how she looks, the way she caresses his face is much more important. Focus on the way he holds her, instead of making sure that he looks tall. These are the things that work in a couple photoshoot.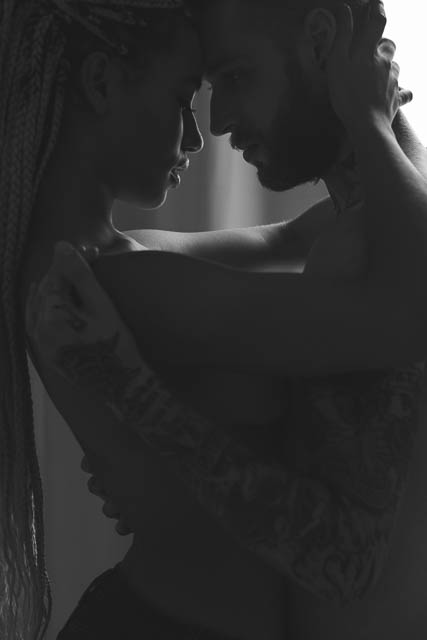 How to blend in
The difficult thing in photographing a couple photoshoot is that there are no rules. You don't have a solution that works with everyone. You need to understand two people for who they are and for how they behave when they are together. Are they exhibitionists that bring the best out of themselves when the feel watched? Or are they a shy couple that want some intense memories of who they feel they are? Either way, you need to understand them. As we mentioned over and over again, you need to be a psychologist more than a photographer if you want to capture beautiful boudoir images. Photographing couple is the same.
One of my advices is to work harder during your pre-production. Get to know your subjects as well as you can, and make sure they understand what your role is going to be. Tell them that a couple photoshoot for boudoir is about them and how they interact. Tell them that having a third party being present and recording their intimacy can be challenging. Make sure to prepare them for you (an intruder) an their relation. A good work before the couple photoshoot will make it easier to during the session itself.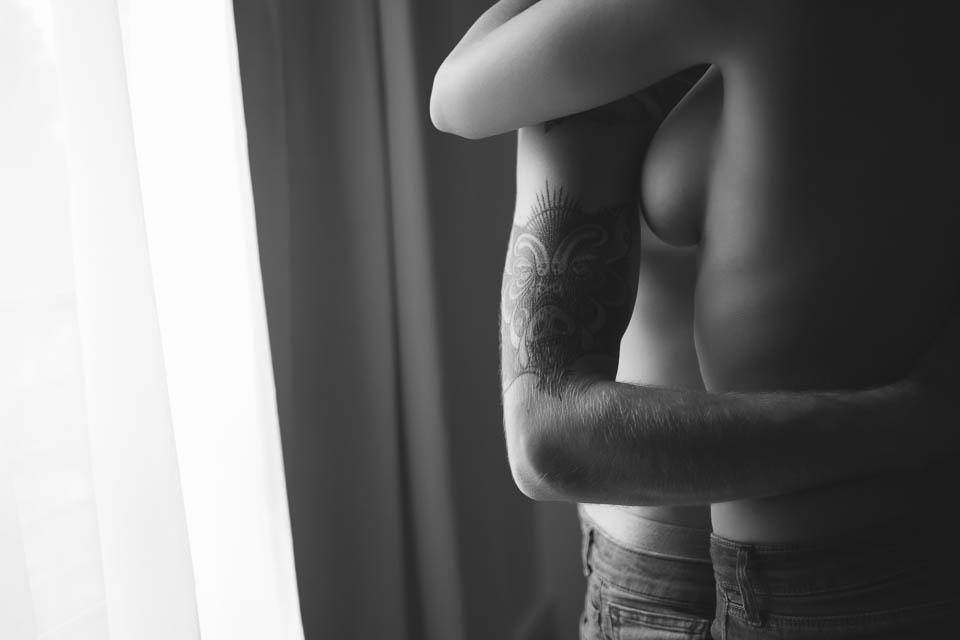 If only one person shines, the couple photoshoot won't work
One last piece of advice during a couple photoshoot. Don't focus on images where one of the two shines and the other doesn't. Focus on making sure that there is balance between them. Check that the light is good on both of them. So, avoid selecting images in which one of them looks amazing, while the other looks bad. Remember that it is not about beauty, it is about capturing those intimate moments. Don't focus on what's beautiful in one of them; make sure you are able to capture the beautiful moments they share!
…and of course, enjoy every moment of a couple photoshoot!