Google Keyword Tool: Writing With Your Photography Customers In Mind
What Is Google Keyword Tool and Why You Should Care About It
One of the most overseen elements in building and growing our websites is what we care most for: our customers. We live on them, we love to photograph them and we should know who they are and what they care about. What we use our photography websites for is to reach to them and show them we are the best photographers they can dream for. However, before showing our style to them, we need to be where they are, appear in the search results they look for, answering to their questions, in this way we become not only photographers, but sources to answer the questions they have. They are our customers and to serve them in the best possible way we need to know what they are looking for and make sure our websites are there for them.
SEO (Search Engine Optimisation) is a vital element of any website. Those three letters mean that you can tailor what you write to your thought to be visible. Google offers you an incredible tool to understand where your customers are and what they are looking for: Google Keyword Tool. Starting to the keywords you believe your customers are looking for, Google Keyword Tool will tell you how many searches a specific keyword has and how much competition you have on the field.
If your market is Boudoir Photography, Google Keyword Tool will tell you that there are 49,500 global searches every month, of which 4,400 in the UK, but they will tell you that there is a high competition there. Google Keyword Tool will also tell you that there are 73 local searches for "Intimate Portraits" where the competition is low. Deciding which road to go to customise your website is your call, however we strongly believe that an informed decision leads to better results.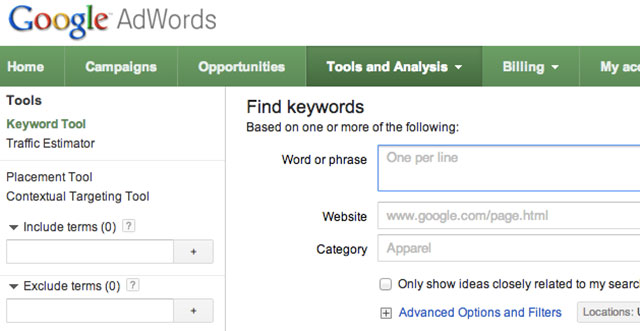 Google Keyword Tool and SEO
Optimising your site for search engines means that your website will appear right there where your customers are looking for. A better SEO will higher the chances to have more visitors on your website and then convert them to customers. You don't need to pay for advertising (we will discuss this in other articles) and if you manage to be the first result for a organic search, you will gain visitors and customers. To step into the game with the right foot, however, you need to know the arena, know how to make the most out of what people search and find the niches that no one else is active in. Google Keyword Tool will alloy you to understand the arena you want to compete in. You have to know your ideal customers, understand what they are looking for and then use this tool to find a way of reaching them.
Being a portrait photographer launching your new website is like having just bought a small football team and pretending to play in the Premiership League: you can certainly do it, but you will be beaten hard by the big players. Your website needs time to grow, to show google that you are serious about what you do and that you are a source of trusted information for your customers. Instead of writing for "Portraits", entering a market where everyone tries to fight with nails and teeth, why don't you try to create a niche market? Are your ideal customers googling "Portraits" or are they looking for "tattoos pictures" where there is a lower number of searches but a much lower competition?
My advice is: start in a small niche, let your site become one of the big player in that area and then expand. SEO is about this, making sure you have the right skills to be considered an expert, and Google Keyword Tool is your most important companion to start things right, to be where no other people are, but your customers.

How To Use Google Keyword Tool
Google Keyword Tool is a simple tool to use. Feed it with some keywords and it will tell you how they are scoring. There are few things to keep in mind, though, to make the most out of the Google Keyword Tool. First of all you need to make sure to know that a keyword is not just one word; a keyword can be a phrase, a sentence or a couple of words. People don't google "Yummy" or "Yummy Mummy", today they ask google questions, like "how to be a yummy mummy"! These are your keywords and you should ask Google Keyword Tool to check every combination of it. Be creative, ask Big G a lot of questions and the Keyword Tool will tell you which one has higher searches and which one has lower competition. High Market and Low Competition: those are the fields you want to be aggressive on with your SEO key-wording!
Another very important thing to set on Google Keyword Tool is the type of searches you are interested into. By default Google will analyse your keyword broadly giving you a generic idea of the searched results. Google will expand your search using synonyms and related searches, which really dilute the meaning of the numbers. When I search a specific keyword I want to know how many people are specifically looking for those exact keywords. To do this you just need to de-select Broad and use [Exact] and "Phrase" instead. You can read why in google's document in this link!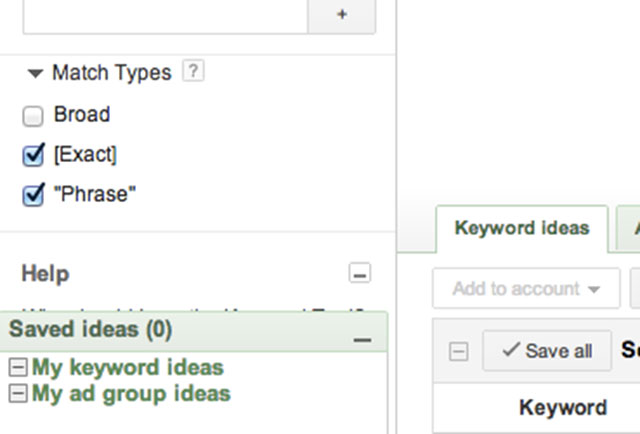 What Are Your Customers Looking For?
Some time ago we wrote about the Ideal Customer. We defined it as the person you should always write to, the client you would love to have day in and day out. By now you should know her pretty well, but if you haven't carefully read our post about it already I would strongly suggest to jump to it straight away and do some serious thinking over it. Knowing your Ideal Customer in detail, you should be able to know what she is looking for. You should know the website she visits and how she uses google for, and of course this closes the circle with all the hard work you have done on your SEO. You can now focus on the searches that your Ideal Customer does and you can now have a tool to understand which ones are the most important ones!
SEO is not a science, Search Engine Optimisation is a way of writing your content with your customer in mind, with her values in mind. Optimising your contents is something extremely important as it allows your customer to find you.
Are you already using a good SEO strategy? Are you leveraging the Google Keyword Tool already?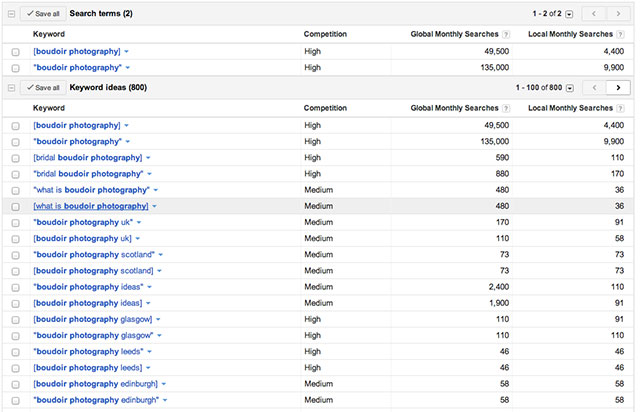 Tell Us What You Think?
Have you used Google Keyword Tool already? Have you built your SEO around Google's suggestions, or are you going to have a look at it after reading this post? We LOVE to hear from you and we would be really glad if you could let us know your thoughts. Leave a comment and share this post to your social networks, in this way we will be able to produce more and more contents worth reading!
Related articles