SEO for Photographers: Why My Website Is Not Ranking Well In Google?
How To Write Contents To Improve the SEO (Search Engine Optimisation) of your photography website in five easy steps
A good SEO (Search Engine Optimisation) for your photography business improves the position of your website in an Organic Search on search engines. This is extremely important to give visibility to your photography website. To be in the top spot you need to produce good quality contents (content is king) using few techniques to make sure they are understood and liked by Google: this is called Search Engine Optimisation.
Don't worry, SEO for Photographers is simple: let us tell you how to make the most out of your contents.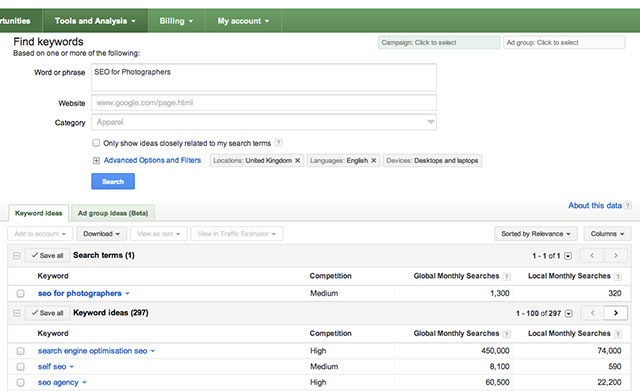 1. Write With Your Ideal Customers In Mind: Primary Keywords
Every time you create a content you should focus on who you are writing and what information you want to pass to them. Gie an answer to the following question:
If I were my target, what would I search?. You should write with a person in mind: what would you tell her? The key is to write a good human-readable content, not a text built for a computer.
It is really as simple as that: you should think as your Ideal Customers and make sure to write their keywords. In this case I am talking to you (photographers) about SEO (my content). I decided to focus on the frustration we all had sooner or later: why my website is not out there on Google? I decided that my primary keywords would have been "SEO for photographers". I have written my Primary Keywords in my Title and I have built this post around it, making sure it appears quite often at the beginning of it. You should also remember that a keyword is not just a single word, a keyword can be a short phrase: it is what your Ideal Customers Google!

2. Pages, Blog Posts and Images: SEO is about Contents

If your photos are named like IMG_0001.jpg Google will never know what they are about. Give them a meaningful name: seo_for_photographers_photos-01.jpg sounds much better, doesn't it?
When placing your well named image in your post, make sure to fill the ALT tag (ALTernate text). Describe your image!
In the same way you wrote the ALT tag, make sure you give your image a human readable name.
Always remember to be consistent. Your filename, ALT and TITLE tags should match the content of your page, otherwise they won't serve your purpose
As you can see it isn't so hard to prep your images to help your contents' visibility!

3. Title and Description
The title and the short description of your page or posts are extremely important for your SEO score. On WordPress we use All in One SEO Pack a plugin that simplifies the management of your Search Engine Optimisation. It is however important to understand that there are no tools or plugin that will write a content for you or that will optimise it for you. You have to rely on quality content.
What are the rules of thumb to increase the SEO through your titles and descriptions?
Place your Primary Keywords at the beginning of the title. Your title should be at most 72 characters and at least 4 words long.
Place your Primary Keywords in the description as well and keep it shorter than 160 characters

4. Keyword Stuffing
We have repeated few times that your should write quite often your Primary Keywords in your title, description and content, however there is a method called Keyword Stuffing that can seriously penalise your SEO score. Avoiding it is pretty easy: you should never write your Primary Keywords more than the 5% of the length of your content. Let's say this blog post will have 600 words, then I will have to write "SEO for Photographers" less the 30 times. It may seem obvious, but some times we can get carried away. Edit your content well before publishing them!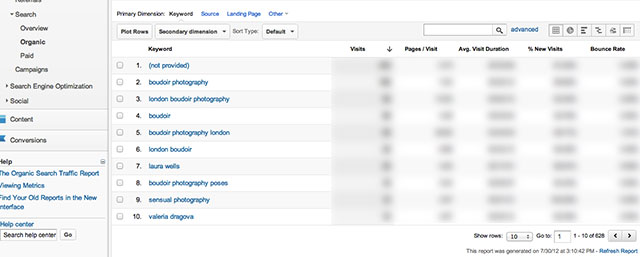 5. Relevant Links Go a Long Way
Last, but not least, is the importance of the links you place in your copy. The first answer is: YES, you should have good links in your content. As rule of thumb you should place a link every 120 words, making sure to have few good ones towards the beginning of your text. Don't think that placing links on your website may drive your customers away, giving great resources to them is much more important than having them reading something boring on your website. Make sure all the links open in a new window, leaving your page open, and give your reader good resources: they will love you!
There are plenty of good resources online about SEO. I would suggest to read a couple of best practices and make sure you start implementing your Search Engine Optimisation!