Why Google Adwords is not performing for your Photography Business? Part 1
How You Can Make Google Adwords Work For Your Business
If you have never heard of Google Adwords there can be only one reason: you don't know it by its name. Every time you make a Google search, Adwords is there, showing you adverts from businesses that show what you are looking for.
The Big Question is not what it is, but how you can use Google Adwords to maximise the advertising investments for your photography business.
To get Google Adwords you need to know about its four elements: Campaigns, Ad Groups, Ads and Keywords. Understanding these elements is the key to create adverts that will be shown to your leads.
In these two articles, we will make sure that words like
Ad Relevance
Website SEO
Campaigns
Ad Groups
Ads
Keywords
Will be clear paths to using Google Adwords in the right way.
Let's start looking at the basis first: Click Through Rate and Ad Relevance.
What is Google Adwords Click Through Rate and why you should care about it
The CTR (click through rate) is the key indicator for any Google Adwords Ad. It tells you the percentage of people who see the ads clicks on the link. It is crucial because it tells you if you have planned your ad in the right way, targeting the right people. Remember: it does not actually count how many times your ad is shown, but how many times it is clicked in relation to the time it is shown. If a person out of two clicks on it, you are targeting the correct customers, but if your CTR is extremely low, it should tell you that the people you are targeting are not those interested in your products!
Understanding your target customers and preparing your Google Adwords for them is particularly critical. The CTR will tell you if you have done a good job positioning your ad.
How can you make sure to have a high Click Through Rate? Building your Campaign in the right direction and making sure to test them properly! We will discuss this in the second part of this article.
Ad Relevance and how it affects your wallet
The second benchmark for your Google Adwords is the Ad Relevance. Google will evaluate your ad in the way you built is comparing its effectiveness against the same competitors for the keyword. Yes, Google will score your ad, its keywords, its landing page and many other factors against your competitors and will give you an indication of how good you have been. SEO is particularly relevant in this as well: Google will keep your website into account and will increase the Ad Relevance if you will produce online ad that matches the same keywords your website is built upon.
One of the reasons why this value is especially significant is that it affects the price you will have to pay to see your ads in a prominent position -which I believe being the highest 3. The Ad Relevance is scored between 1 and 10 and the higher it is, the lower you will have to pay to be on the top of the search results. Google does this because it bases this decision on the fact that good ads that attract the customers to the correct website are the best for the customers themselves therefore they are given an advantage over the ads that are not so relevant.
You should understand that having a high score impacts sensibly on the price you pay: if your competitor's Ad scores 7/10 and your scores 6/10 you will have to pay double his bid to come on top. If you think this is a lot, imagine how much you will have to pay if your ads are poorly written and they score just 3/10.
Getting Results Is Simple, Getting Good Results is Not.
Having Google Adwords driving traffic to your website is one of the simplest things you can do. Just list an ad, put some money on it and you will see Google sending people down your road. The tricky part is that they may not be the right ones for you.
What will be driving the right customers are the right keywords in the right places, the structure of your ads and the landing pages of your ads. Making all of this work is simpler than it sounds, and to get there you just want to focus on these factors:
Right Initial Keywords (what your real customers are looking for)
Making sure those Keywords are the same that your Website SEO are built on
Using the right Keywords correctly when building your ads
Tailoring your landing page to the keywords and the ads
For example if you are a portrait photographer and your website's SEO underlines the fact that you specialises in actors' head shots, identifying these as keywords is the way to go. You should then use those keywords and some relevant variations (you can use the Google Keyword Tool for this) in the right way to build your ads. Finally you should make sure that the landing page of your ads validates what you say in the ads themselves.
What's next?
In the next part of this post, I will help you on how to build your Google Adwords campaigns in order to make them relevant. You will learn about Campaigns, about Ad Groups, about Ads, about Keywords and how you will be able to make sure to turn Google Adwords in the best investment, in your online marketing!
So, subscribe to our free newsletter just below to have it delivered straight into your inbox!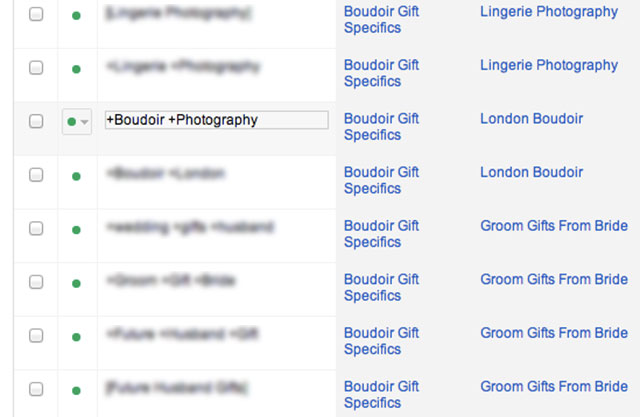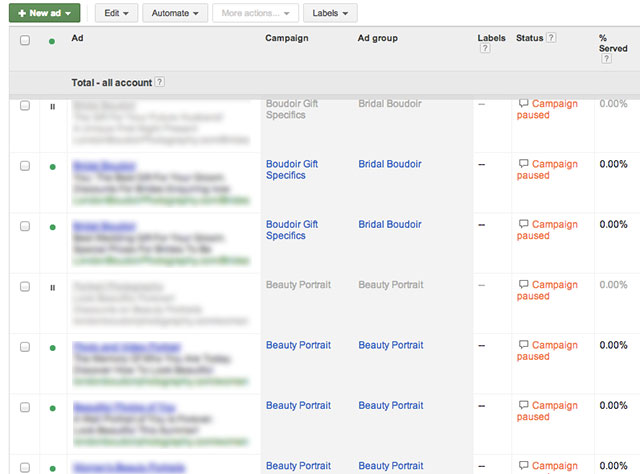 Related articles